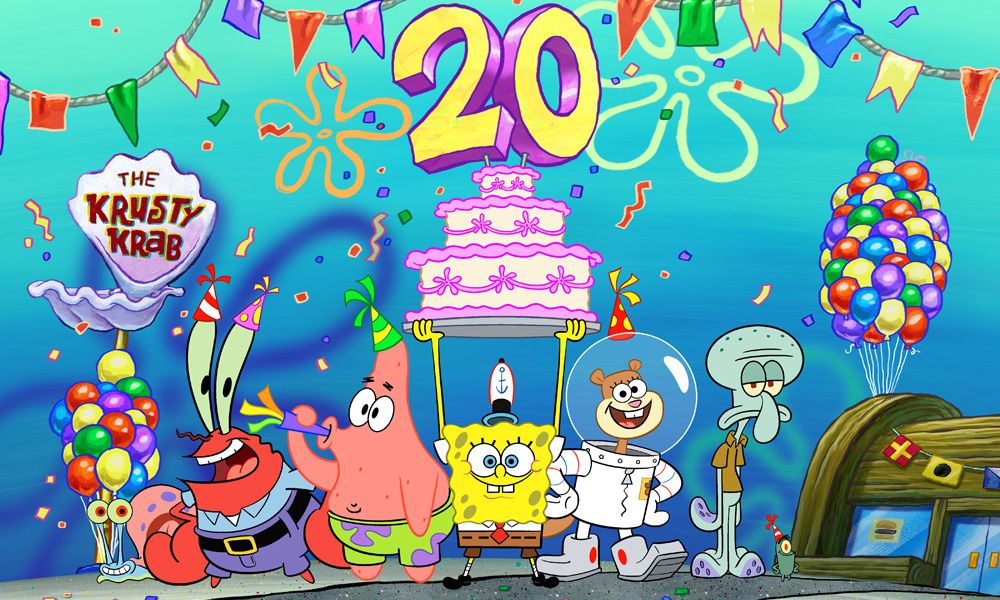 Nickelodeon is commemorating the 20th anniversary of SpongeBob SquarePants with the "Best Year Ever" — a tribute comprising new adventures across screens of all sizes and a fresh wave of fun toys and merchandising celebrating the toon icon. SpongeBob launched July 17, 1999, and has reigned as the number-one kids' animated series on TV for the last 17 years, generating a universe of beloved characters, pop culture catchphrases and memes, theatrical releases, consumer products, a Tony award-winning Broadway musical and a global fan base.
"The tiny residents of Bikini Bottom have held the world's attention for a remarkable 20 years and we owe it all to the monumental creator Stephen Hillenburg," said Ramsey Naito, EVP, Animation Production and Development, Nickelodeon. "This anniversary special is a love letter to everyone in the universe of SpongeBob, from the fans across the globe to the incredible creative team, crew and talent who continue to bring these great characters to life."
The "Best Year Ever" kicks off Friday, July 12, with the premiere of "SpongeBob's Big Birthday Blowout," an original mixed live-action and animated special, and leads up to the Paramount Pictures and Nickelodeon Movies theatrical, The SpongeBob Movie: It's a Wonderful Sponge, coming summer 2020.
It's SpongeBob's birthday in "SpongeBob's Big Birthday Blowout," which features for the first time the celebrated voice talent behind SpongeBob (Tom Kenny), Patrick (Bill Fagerbakke), Mr. Krabs (Clancy Brown), Sandy (Carolyn Lawrence), Squidward (Rodger Bumpass) and Plankton (Mr. Lawrence) playing live-action doppelgängers of the animated characters they voice. In the one-hour special, Patrick and SpongeBob journey to the surface world, where they come across a few familiar characters during lunchtime rush at The Trusty Slab restaurant. Meanwhile, the Bikini Bottom residents set up a surprise party for SpongeBob.
Nickelodeon will also commemorate the series with: a new product line by master toy partner Alpha Group, featuring figures that showcase SpongeBob's iconic meme moments; collaborations with lifestyle brand Cynthia Rowley for a SpongeBob wetsuit and international mixed-media artist Romero Britto; the launch of a dedicated YouTube channel and mobile game; and more.
Memorable Milestones in SpongeBob SquarePants History!
Every four seconds, someone in the world is talking about SpongeBob on social media.
The franchise has garnered $13 billion in lifetime retail sales of consumer products.
The series is the recipient of multiple Emmy Awards: Outstanding Performer in an Animated Program for Tom Kenny (2018), Outstanding Children's Animated Series (2018), Outstanding Achievement in Sound Editing (2014), and Outstanding Special Class Animated Program (2010), along with a special honor presented to Stephen Hillenburg at the 2018 Daytime Emmy Awards for his contribution and impact in the animation field.
SpongeBob was the first square-shaped balloon in Macy's Thanksgiving Day Parade history.
A new species of tulip was named after SpongeBob in Holland (2010).
San Francisco State University discovered a new mushroom species and named it after SpongeBob (2011).
United States Postal Service mailboxes across the country were wrapped in a custom SpongeBob design (2013).
SpongeBob SquarePants has "saved lives:" a Long Island girl saved her friend from choking because she learned the Heimlich from SpongeBob (2012); an Australian man lost at sea was found by a helicopter that spotted his yellow SpongeBob trunks (2012); and an entire family was saved from a sinking boat by plugging up the hole with a SpongeBob football (2007).
Best Year Ever Highlights
Programming:
This summer, Nick will premiere some of the funniest new SpongeBob episodes ever, which will put the characters in situations they've never been in before: SpongeBob closes the gap in his teeth and his personality changes; his dream comes true when he becomes boss for the day at The Krusty Krab; and Plankton and Karen, somehow, have a baby.
Consumer Products:
New global master toy partner Alpha Group will debut a brand-new line of toys, collectibles, plush and novelties. The imaginative range includes: a "Masterpiece Meme" line of vinyl figures, bringing to life fan-favorite viral memes like Mocking SpongeBob, Imaginaaation SpongeBob, Surprised Patrick, SpongeGar and Handsome Squidward; and for the first-time ever, SpongeBob toys that incorporate Nickelodeon Slime. Select toys are available now on Amazon and will roll out to other retailers worldwide.
New categories launching in consumer packaged goods and health and beauty, including the first-ever range of SpongeBob cosmetics, as well as special-edition product.
Digital:
The debut of an official global SpongeBob SquarePants YouTube channel, featuring the most iconic SpongeBob moments, music from the show, brand-new content — including the short-form series "Bikini Bottom Mysteries," which explores the secrets, scandals, and unsolved mysteries of SpongeBob SquarePants — and more. Themed content added weekly will include Tuesday Tunes, Throwback Thursdays and SpongeBob Saturdays.
Launch of a brand-new global mobile game, which will allow fans to share SpongeBob's experience of being a fry cook in Bikini Bottom.
Brand-new short-form content across YouTube, Facebook, Facebook Watch, Instagram and Twitter, celebrating fans and their favorite episodes, cast moments and more.
Art and Fashion Partnerships:
The lifestyle brand Cynthia Rowley will feature a SpongeBob SquarePants wetsuit in their New York Fashion Week runway show on Tuesday, Feb. 12.
International artist Romero Britto will reimagine SpongeBob SquarePants with his trademark vibrant, bold and colorful style in a mixed media art installation that will be exhibited at pop-up SpongeBob experiences across the U.S.
SpongeBob SquarePants is currently seen in 208 countries and translated into more than 55 languages. The series is created by Stephen Hillenburg. Marc Ceccarelli and Vincent Waller serve as co-executive producers. SpongeBob SquarePants is produced by Nickelodeon in Burbank.

[ssba]