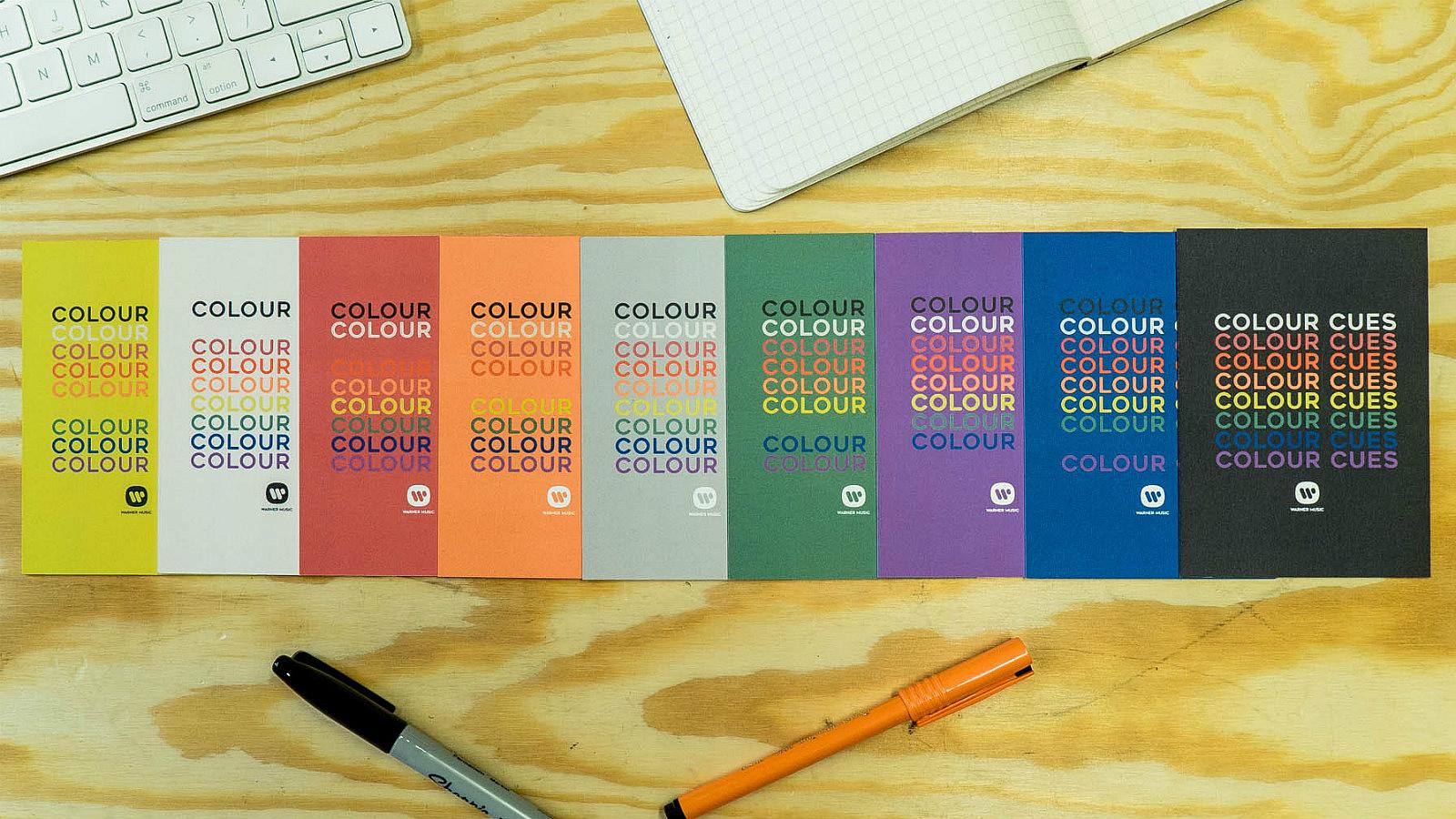 Warner Music UK's Synchronisation team – Liam Klimek, Laura Willoughby & Tim Miles – have launched Colour Cues, a music discovery aid which uses the psychological relationship between colour, mood and music to help clients find the right track for their creative content.
With more than two million songs in the Warner Music catalogue, finding the one track which successfully evokes the desired emotion in an audience can be overwhelming for those outside of the music industry the company said.
Therefore, to aid this process, the team at 'Sync' have spent the last six months researching how best to share their knowledge and expertise with clients working in film, TV, advertising or gaming in an accessible, engaging and effective way.
Mood association
Building on the idea that colours are associated with specific moods, the team has created a set of thirty-six physical cards and a complimentary website, which divide moods into nine different colours; black, white, pink, red, orange, yellow, green, blue and purple.

Each 'colour' has four moods associated with it, and each mood has a corresponding track list made up of a broad range of songs, from both new and established Warner artists.

The deck contains over 500, expertly chosen, song ideas, which is a just a fraction of Warner's vast catalogue.

"We are always looking for new and creative ways to showcase the emotional power of music and to bring our artists' music to life", said Tim Miles, VP, Synchronisation, Warner Music UK.

"We hope that Colour Cues will spark conversations and ignite creative thinking when it comes to choosing tracks.

"Most of our partners are very visual in their thinking and so our hope is, by categorising music in such a visual way, it will help them navigate through a huge number of songs available to them, aiding them in finding a track that fits their brief."

Colour Cues is the latest innovation project designed to help bring the Warner Music offering to life.

Recent projects have included the launch of the in-house publishing company W Songs, the creation of a film supervision arm, the roll out of Vinyl Club – an elite mailing list of top agency creatives, and a series of creative look books which act as a search & discovery tool for Warner Music artists and repertoire.

[ssba]